If you've been following along lately, you might have noticed that we've sure been talking a lot about events — and with good reason. While it's no secret that the Content Matterz team loves working from home in our jammies, there's just something special about connecting with real live humans out in the world.
Event season is upon us, so we've already shared our best tips to market and add a little swagger to create a splash for your brand. Today, we're going to cover a few easy-to-forget tips to help your website content support your out-in-the-wild presence. Whether you're hosting an in-person or hybrid event, presenting or managing a booth, or simply attending a big conference or meeting, your company website will likely be the first place new contacts go to learn more about the products or services you offer.
It can be painless if you start early! Read on to learn our favorite tricks for boosting your online content to help support your in-person attendance.
Move relevant information to your homepage
Sure, it sounds obvious, but how many times have you gone to an event, wanted to learn more about a keynote speaker or how the company fits into your industry but found a website that fails to make the connection?
If you are hosting a booth or sending someone from your company to present at an event, the homepage of your website is a great location to feature event-based content.
Pro tip: think "above the fold." Feature event-related content at the top of your website.
Many websites utilize a carousel at the top of the main page to highlight the most important information. You can use a snappy graphic to feature your speaker, direct users to an event-adjacent blog or send visitors to your event-inspired landing page.
By intentionally placing the right content on your company's homepage, you can help easily connect potential customers to the information or person they need while the event buzz is still fresh and top of mind.
Create an event landing page
Even if you are only attending an event, a landing or pillar page is a nice way to gather all of the most important information in one place.
When pulling it together, think about what people might want to learn more about if they meet you at an event, and then quickly scan your company's website from their phone. An accessible landing page is a one-stop-shop where you can include more details about your company's presence at the event, associated products and services, relevant blog posts or other pages and links to profiles of people who are planning to attend.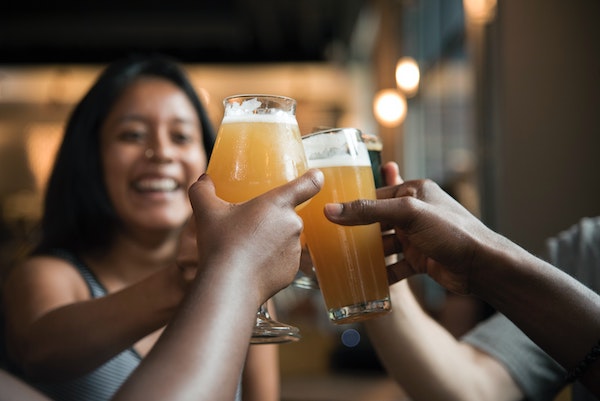 Events can be a big but worthwhile investment! If you are going to have a major presence at one, use a landing page with a fun CTA to inspire other attendees to connect with your team, visit your booth, or even join you for event-related activities like a happy hour or post-event networking opportunity.
Publish blog posts that relate to themes of the event
Looking to support your booth team or want to give your speaker additional credibility? Don't forget to update your company blog! If you have writer's block, check out these ideas to kick-start your creativity:
An interview with the speaker
A teaser for a session that hits on its topic
Thought leadership around themes of the event
How-to or a listicle of items event attendees might care about
A company-culture piece that ties into the theme of the event
As a bonus, blogs make for great social media posts and email campaigns! You can share event excitement emails with clients and prospects to let them know an event is happening or see if they'll be in attendance. Or, drum up some extra engagement by posting your blogs to LinkedIn or Twitter. Remember to tag your speakers, attendees and booth hosts for additional amplification.
Events are a great way to increase the reach of your brand and build awareness for the products and services you provide. With a bit of planning ahead of time, you can tweak your website to feature event-related materials so new people that learn about your company can easily view relevant content.
Are you hosting or attending a major event? Our team is ready to help you boost your content to support your presence.