International Women's Day highlights the social, economic, cultural, and political achievements of women. In a previous life, I've used this day to share stories about challenges women face in industries that are typically thought of as male-dominated. As a content person, I love this day because it's allowed me a chance to candidly connect with some very impressive women.
My career has placed me on both in-house and external marketing teams, so when I discovered Content Matterz, it was as if the stars aligned. For starters, I found a wholly collaborative yet entirely remote team dedicated to delivering incredible content strategy for great clients, predominantly in the SaaS space. And, as a copywriter hungry for a chance to show what I got while learning from a savvy and empathetic leader, I was pleasantly surprised to meet Content Matterz CEO and Founder, Cara McDonald, who just *gets* it.
This year, I used International Women's Day as an opportunity to sit down with my new boss to learn more about our woman-led company and shoot the breeze about building an agency that encourages success for all employees.
Check out my three favorite highlights of our conversation:
What was on your mind when you started Content Matterz?
You don't have to dig very deep to see data touting the success of women-founded companies. A quick Google search reveals stats that suggest the benefits of backing teams led by women. Yet, we still see men receiving significantly more promotions and leadership roles, even in female-dominated disciplines like marketing. But why?
I started Content Matterz on my own and added one other person at about two years into it. We had a handful of clients, and early on, I realized the value we offered as external content strategy partners. I believe our clients saw it too, and, fairly quickly I knew we needed to add talent to our team. As we started to grow, it was crucial to create an environment that enabled employees to bring their best selves to work because one, they feel comfortable, be it sharing what they know or asking for help. And two, it was important to give my team the agency to take care of their personal lives.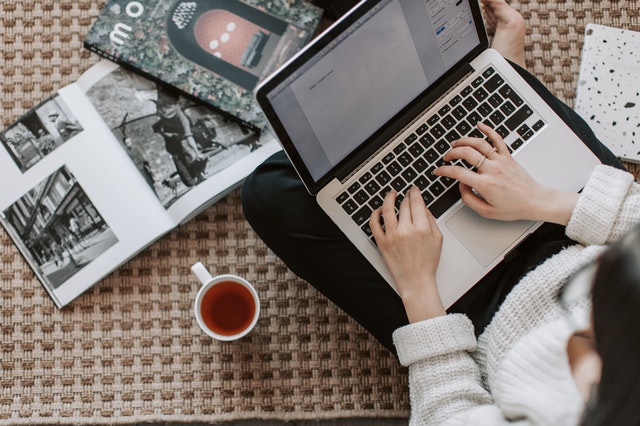 I think the flexibility and opportunity to kind of choose your own adventure is something that resonates with our group. Just because we hire for one role, it doesn't mean you are stuck there. I want every person to have the chance to explore what excites them, and I'm committed to doing everything I can to help them level up.
And I don't want anyone on my team worrying about having to duck out to pick up their kid from school.
I think some of the challenges we often see placed on women — like caring for family or getting labeled as difficult for simply speaking up — contribute to turnover or the lack of women in leadership positions, so I want Content Matterz to be different. As we continue to grow, I hope to keep fostering this environment of curiosity and flexibility that both gives all employees opportunities for career advancement and allows us to keep creating stellar content strategies for our clients.
What sets Content Matterz apart from the crowd?
Look, we aren't reinventing the content wheel, but our knowledge of the industries we work with and how we tackle projects enables us to understand the needs of our clients.
For many companies in the SaaS space, their marketers are at max capacity and wearing many hats. One of the best parts of our job is relieving some of that burden and helping them move forward to reach their goals. Our strategists function as an extension of their team to determine what they require, offer solid recommendations and then produce what they need.
Also, we are 100% remote and plan on staying that way for the foreseeable future. Our clients are everywhere and, thanks to technology, we can assemble our team to meet with folks wherever, be it a conference room or in their home office. Sure, I can't wait to bring everyone together for a retreat, but I think there is a ton of comfort for everyone knowing that they can keep working in this way that is flexible to the demands of their lives.
Most importantly, every single member of Content Matterz is a genuinely wonderful person. Our diverse backgrounds and experiences come together to creatively tackle each project and exceed client expectations. The team has an unparalleled ability to explore new ideas and collaborate, and there aren't any egos getting in the way. And not only are our people fantastic, but we also have great clients who make it easy for us to show up to work every day.
What advice can you share for other women in (or looking for) leadership roles?
I'd say my best advice for anyone in leadership is to nurture trust with your employees. So far, we've managed to create a team where people feel comfortable doing what they think is best with the room to make mistakes. I view mistakes as coachable moments where everyone can learn something. We also trust our employees to take the time they need, and I have yet to worry about the work getting done.
There is plenty of data out there that makes the case for successful women-led teams. The assumption that female employees are less productive because of home and familial obligations is a narrative that hurts us all. Men are also school room parents, errand runners, caregivers, and coaches. Everyone deserves the autonomy to invest in their health and household without it wreaking havoc on their career.
The more women we have in leadership roles, creating companies, and building cultures of trust, the more I think we will see this type of work/life balance become the norm for everyone. From my experience, clients don't care about gender, they simply want quality results. Through building a flexible and safe space where everyone has the freedom to balance their work and personal needs, Content Matterz attracts talented people and that shines through for our clients, who trust us to do what we do best.
It always boils down to trust.
Ultimately, I think trust leads to people being happy and doing their best work and growing as humans, not just employees — which is what it's all about.
At Content Matterz we're always looking to meet new people. Check out our careers page to learn about open positions.