For internal marketing teams at businesses of all sizes, bringing in outside help through a marketing agency is a beneficial way to help grow marketing strategies and programs, and achieve greater results. With so many different types of agencies out there, it is important to find the one that aligns best with your overall goals. Whether it be a full service or specialized, each agency has their own skillset, and having a better understanding of both types will help you select the right fit for your next project.
The difference between a full service and specialized agency
There are typically two main types of marketing agencies (with some that fall between): full service and specialized.
Here's a helpful breakdown between the two:
Full service agency – Sometimes called a general agency, these companies handle all aspects of marketing or advertising programs for a business. They typically have larger teams and ample resources to pull from, allowing them to complete many different types of projects.
To make project management easier on their clients, these agencies usually provide the client a main contact (or sometimes two) to manage their team and the projects behind the scene. This can be a huge value add if you plan on using the agency for quite a few different projects or marketing programs that have many different components. The single point of contact decreases the amount of emails in your inbox as well as the amount of project management you will need to perform.
A few things to keep in mind: full service agencies can be more expensive than specialized agencies. They also may lack deep knowledge of any certain marketing facet, since they tend to do a little bit of everything.
A few examples of general agencies include BBDO and Meredith.
Specialized agency – This type of agency focuses on a select service (or group of like services), such as website design or SEO. The teams are usually smaller, and the individuals are experts in that specific discipline.
At Content Matterz, for example, we specialize in content marketing, and are often brought in to create and design specific pieces that are part of bigger programs and strategies. These types of projects include writing and designing whitepapers, infographics, blog posts, email campaigns, and more.
See how we helped companies such as PayScale and SAP Concur with their content needs.
Because the services offerings tend to be fewer and focused to the specialty, a specialized agency is often less expensive than a full service agency.
A few examples of specialized agencies include Content Matterz (that's us!) and Digital Reach.
So, which agency should you hire?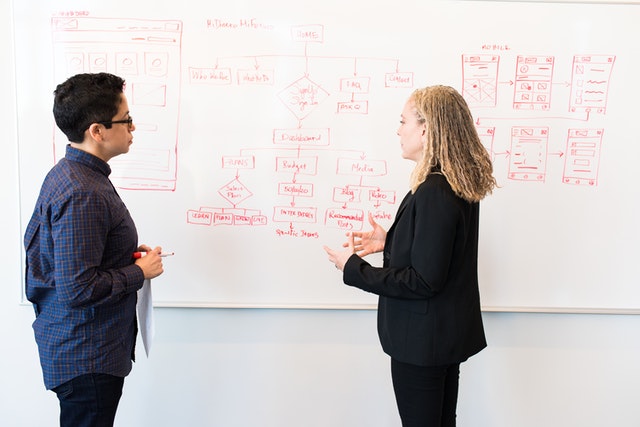 That entirely depends on your project and goals. If you are in need of helping facilitate and manage marketing programs overall, then a full service agency is probably your best bet. But, if you are looking to achieve a specific goal, need help with just a portion of a program or need a select set of tools or knowledge, then a specialized agency is a better choice.
Follow these steps to help you determine which agency is best for you:
Figure out the exact need or needs of your team, your expected goals and where a marketing agency can help. This will help you determine which type of agency you should hire.
Do a little research, talk to your friends and connections, and create a list of agencies you think will fit the bill.
Start discovery calls, the RFP process and find the perfect fit.
If you're not sure where to start or what type of agency you need, we can help. We can talk through your issues and give you guidance as to who might be the best fit. Of course, if it's content related, that's our wheelhouse and we are ready to dive right in!
Reach out to us today to get the conversation started!